LearnWorlds Review 2022 – What is your thought?
Are you interested in the LearnWorlds review? If yes, then here is the amazing LearnWorlds Review exploring its features and pricing plan.
LearnWorlds allows you to create and sell your own website for online courses. It is indeed one of the best sites for creating, selling, and promoting your online courses online. Start to monetize and show off your strengths, insights, and your audiences using LearnWorlds.
Let us now see what LearnWorlds' plan offers to creators, entrepreneurs, and developers like you in the upcoming LearnWorlds review section.
LearnWorlds Review
LearnWorlds Features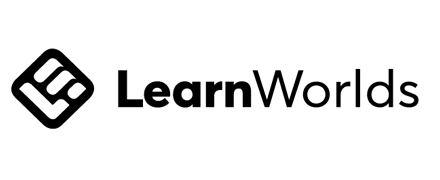 LearnWorlds empower each creator whether you are just starting or planning to enhance your line of course. LearnWorlds offers amazing features to make your insights, skills, and abilities into reality, and earn through it. LearnWorlds provide high-quality collaboration tools, powerful features, and great services. You might have come across many LearnWorlds reviews stating the advantages of LearnWorlds features. Let us unveil it now.
Build Courses
Build awesome courses in partnership with LearnWorlds. Your content is your greatest asset, thus capturing attention, increasing engagement, improving learning efficiency, and guaranteeing satisfaction are LearnWorlds' objectives to help you all out.
This feature enables you to:
Show a synchronized transcript – Boost engagement through an interactive transcript that is automatically extracted from your video.
Add interactions without post-production – Add questions, titles, pointers, overlay images, links, and a lot more interactions to your videos.
Flexible pathways with drip feed – Navigate freely, sequentially, or set your own restrictions. Schedule the delivery of your online course with drip-feed.
Casual reading with note-taking – Offer multiple ways of adding notes and highlights. Help users to improve their scanning and reading strategies.
Market and Sell Courses
LearnWorlds offers a complete e-commerce solution with built-in marketing and sales tools for growing your audience and increasing your revenue. LearnWorlds provides you all the powerful marketing tools, integrates with your favorite tool, maximizes revenues, and has actionable analytics-ready.
The following are the few highlights included in this feature:
Build your own sales team with affiliates – Build partnerships and let others help you generate leads and sales.
Unlimited Courses and Multiple Instructors – No limits to the number of courses. Bring other trainers to sell courses through your school and share the revenue.
Integrates with Zapier, Zoom, Mailchimp, etc. – Connect your school with virtual infinite marketing and affiliate tools and increase your sales.
School Dashboard and Student Progress – Be instantly on top of your sales, registrations, and student activity. Robust reporting for monitoring students' progress, engagement, and course completion.
Create A School Website
LearnWorlds is introducing the most advanced online school site builder where no coding or design skills are necessary. It is made convenient and easier for you with hundreds of ready-made, fully customizable templates and to build your own online school.
Templates, Design Blocks, and Themes – A wide variety of layouts to choose from, mix, and match.
Fonts, Layouts, Buttons, and Graphics – Beautiful elements and widgets that blend into your brand.
Interactivity, Customisation, and Connectivity – Engage with your users and increase conversion.
Adaptive Content and Appearance – Embrace adaptive design by creating sections and widgets that will appear only to specific user segments or devices.
Corporate Training
LearnWorlds turns educational experiences at scale, offering a powerful online learning experience to your employees and associates, educating your customers, or selling online courses to big audiences. Robust, secure, and safe infrastructure for high volumes of enrollments. Many top companies lean on Corporate training after reading LearnWorlds review.
Customer Onboarding and Employee Development – Drive your customers, employees, and partners to success with the power of LearnWorlds.
Enterprise Features for High Volumes – Scalability, flexibility, reliability, and enhanced security. For corporations, learning institutes, and organizations, high course sellers
Enrich Your Brand with a White Label Platform – White label your learning portal using your own domain.
Intuitive, Versatile, and Fast to Adopt – Transform your training initiatives and get more value for your money with an all-in-one tool.
Easy Integration
LearnWorlds integrations enable you to connect your LearnWorlds school with the best marketing and affiliate tools and increase your sales.
Integration Powerful API – Check out our powerful API and experience granular control over your online school and deep integrations with your back-end systems
Integration Webhooks – Webhooks deliver data from your online school to other applications in real-time when an event is triggered. No need for frequent polling.
Connect Software to LearnWorlds Integration – Add your software to our integrations list and allow your users to join the burgeoning ecosystem of online courses.
Integrate with Zapier, Zoom, Mailchimp, Active Campaign, etc. – Integrate with whatever you like because LearnWorlds has a lot of various choices for you.
LearnWorlds Subscription Plans
If you are a starter or a professional creator looking for the best website online course, then LearnWorlds has great offers to you, each plan is constructively made to guarantee you best quality and services.
Here is a brief comparison of LearnWorlds plans to help you choose what plan is right for you.
Starter – LearnWorlds Starter plan is a great match for newbie course creators. Thus it provides the basic starter tools you need.

Includes Basic Features
1 Admin
$5 Fee Per Course Sale
24/5 Email Support
Pro Trainer – LearnWorlds Pro Trainer plan is best made for professional trainers. It offers many more sustainable tools than Starter and includes Updates, Exclusive Tips, and Knowledge.

Starter Features
5 Admins / Instructors
No Transaction Fees
24/7 Priority Email Support

Learning Center – It is the most popular plan of LearnWorlds and highly suited for all. It exclusively offers Advanced Affiliate Management, Interactive Video, and Integrations with API.

Pro Trainer Features
20 Admins / Instructors
No Transaction Fees
24/7 Premium Support

High Volume and Corporate – LearnWorlds Corporate High Volume plan is very advanced in integrations, management, and exclusive features.

Learning Center Features
Additional Admins
No Transaction Fees
Premium Support Options
LearnWorlds subscription plans mentioned above have significant differences to how much advancement and to what purposes you need. However, it does not end there because all plans have essential common features to share with you.
Unlimited Usage
Course Creation
Course Learning Units Supported
Community & Built-in Social network
Marketing & Sales Tools
Learner and Account Management
LearnWorlds Pricing
LearnWorlds markets itself as a site of "premium." online course. This marketing is just fair, considering the width and scope of functionality it provides, and so is the pricing that comes with it. LearnWorlds has actually competitive marketing advantage at the lower end of its packages from most of the other competitors.
You can avail LearnWorlds subscription plans as low as $24 a month. In addition, LearnWorlds provides more choices for you, whether you choose to utilize annual or lifetime plans that are most appropriate for you. Moreover, LearnWorlds offers a 30 day trial to all plans.
LearnWorlds Starter Plan – $24 – $29 per month
LearnWorlds Starter plan is best suited for newbie course creators. This plan includes all the basic features mentioned earlier, including its customer support.
Starter Monthly Pricing – $29 per month
Starter Yearly Pricing – $24 per month
Save as much as $60 when you avail annual LearnWorlds pricing. Yearly pricing is annually paid while monthly pricing is also a viable option if you plan to avail in just a couple of months.
LearnWorlds Pro Trainer Plan – $79 – $99 per month
LearnWorlds Pro Trainer plan is made for all professional trainers out there. This plan offers all Starter features, and more exclusive features added to it. Check out also for LearnWorlds upgraded and new features in Pro Trainer Plan.
Pro Trainer Monthly Pricing – $99 per month
Pro Trainer Yearly Pricing – $79 per month
Save as much as 20% off, $240 when you purchase Pro Trainer plans in its annual pricing. However, you may also avai its monthly pricing for only $99 per month.
LearnWorlds Learning Center Plan – $249 – $299 per month
LearnWorlds Learning Center plan is the most popular plan among others, it is mainly because of its complete powerful tools and features – also much savings when you avail this plan for its very affordable pricing. This plan also includes all the Pro Trainer features plus more exclusive features made only for the Learning Center Plan.
Learning Center Monthly Pricing – $299 per month
Learning Center Yearly Pricing – $249 per month
Save up to 16.7%, $600 when you avail the LearnWorlds Learning Center plan in its yearly pricing. You can also choose monthly pricing with no commitments for only $299 per month.
LearnWorlds High Volume & Corporate Plan – Custom Pricing
LearnWorlds High Volume & Corporate Plan are customizable in order to meet your needs especially if you want to expand your online course and creations into more advanced and technical tools and features. This plan also includes all the Learning Center plan features and very great additional exclusive features made just for you, whatever you like to change, add and enhance.
For pricing, book a demo to LearnWorlds official page directly. You may also contact them via their official mobile number:
US: +1 855 8999555 (toll free)
UK: +44 11 6464 9900
Save more with LearnWorlds High Volume & Corporate plan, enjoying all the best features and services all by yourself and free to customize whatever and whenever. This is how the LearnWorlds review comforts the user.
LearnWorlds Use Case
LearnWorlds have proven its great quality of services across the world, and enables all possible creators and professional trainers to establish their own online course in a variety of ways and subjects such as Fitness, Beauty, Education, Music, Sports, Drones, Parenting and Lifestyle. LearnWorlds has made it attainable to every creator to establish their ownership with. Here are highlights that you should not miss out:
Teaching Calisthenics
The School of Calisthenics team is in partnership with LearnWorlds targeting individuals who are invested in their training and want to develop deep, informative courses using LearnWorlds full e-learning solution with features that allow effective communication in engaging ways and with a number of different customization options on how to present content.
Virtual Kenpo
LearnWorlds has the All-in-One solution that was obtained by the famous William Camp for Virtual Kenpo. It merged the three main elements he was searching for in a platform in the best possible way such as community management, easy-to-use user interface, and mobile abilities. LearnWorlds pricing was also a key selling point, that allows any creators to expand freely without the new students being charged extra.
Learning Liaisons
Dr. Jason Ampel created Learning Liaisons in collaboration with LearnWorlds, thus singles out course functionality as the most important feature in an online school, which leads to more sales. LearnWorlds guarantees creators with its easy integration and management that assists you every step of the way and minimizes technical issues.
LearnWorlds Support
LearnWorlds is respected for maintaining a stellar team of successful customer reviews. LearnWorlds acknowledge that excellent relationships are evolving with clients. Therefore, customer service from LearnWorlds will provide you with education, perspectives, and inspiration to achieve your business goals. Experience LearnWorlds Academy and Knowledge Base.
Concierge onboarding – Assistance for importing your courses, setup and branding, custom design, and training.
24/7 customer support – 24/7 support to increase your confidence in the platform, but above all in yourself.
Migration services – LearnWorlds take care of all migration services especially if you have many courses to upload and less time to do so.
LearnWorlds customer support guarantees you the best performance and services including:
Free SSL certificate
GDPR-compliance
Highly scalable
SSO – Single Sign-On
Seamless hosting
LearnWorlds is valued for creating learning products that cause real, detailed, continuous, innovative, and challenging learning experiences. All plans mentioned above including their features and pricing are compacted into high quality and the best services you could ever look out for. And, here comes the end of the LearnWorlds review. What's your thought?
Final Verdict
Once you are done with the LearnWorlds review section, now it is time to try it on your own. Try out the most popular Learn Worlds Learning Center plan. No worry, no hassle and less technical issues you will ever encounter. It was made affordable and reachable for both starters to professional trainers.
Not all reviews lead you to the right stop. But, the LearnWorlds review is the cloud nine for the users who can indulge in purchasing without any second thought. You can also consider the comparison posts like Learnworlds vs thinkific, Learnworlds Vs Kajabi, and Learnworlds vs Teachable 2022 posts to know how well the learnworlds work. Cheers!!