ThriveCart LMS Learn+ Review 2023
ThriveCart has recently launched a new feature called the "Learn," and the quality is exclusively for existing users. Learn is a powerful LMS platform that ThriveCart users can use for free. The feature allows users to sell training-related content to their customers through flexible courses that contain modules and lessons.
ThriveCart LMS Learn+ Review
As far as the versions go, Learn is available in two versions. One is Learn, which is included in the ThriveCart account for free, and the other is called Learn+, a paid feature. Learn+ online comes with all the ThriveCart learn+ features plus some extra powerful features. Now that you know what Learn is, it's time to look at some of its top features. ThriveCart comes with great LMS features, and most importantly, it's pretty easy to manage the project and course on this LMS.
Projects
Projects are for the organization, and students will not see the project. However, you can start by creating a new project by clicking on New project. You can give your project any desired name. Besides, you can create any number of projects you want.
Courses
After you create a project, the next best thing you can do is add courses. You can do it in the My courses section. You can initially write your course content in your word processor. Next, you can paste the content into the lesson editor and save it as a draft or publish it. Besides, you can add videos and images to your lessons from the editor options. You can embed videos from YouTube, Vimeo, and Wistia. Further, you can customize the colors and fonts.
The next important thing to do is determine the course content access. The access can be either Instant or Drip Feed. Instant Access means providing students with the modules or lessons as soon as they pay for the course. Drip feed is different and comprises various methods to deliver the modules and lessons.
Some of these methods are:
Releasing modules/lessons every day, week, month, or a year after their purchase.
Releasing modules/lessons on a specific day of the month
Releasing modules/lessons on specific fixed dates
Releasing modules/lessons after a trial period
Releasing modules/lessons after specific rebills
Another important aspect of Course content management is hosting the downloads. You can host your downloads with low-cost hosting solutions such as Amazon S3, Google Drive, or DropBox.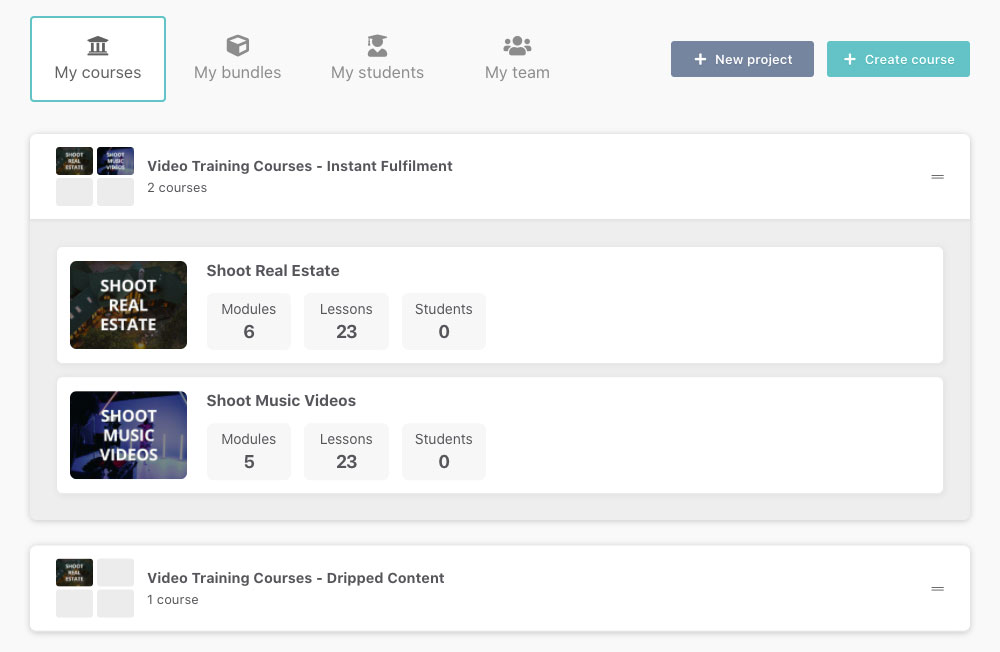 Bundles
When you have a collection of courses and want to sell them as one product, you can use Bundles. Bundles are easy to create, and after you add a customer to a bundle, one will have access to all the courses included in the bundle.
Besides, if you ever plan to add any additional course platform to that bundle, the existing users of the bundle will also get access to those courses.
Students
The 'My students' tab on your LMS helps you manage the students you have enrolled. You can search for a student through name or email. Besides, you can filter students based on courses and enrollment dates. Further, you can filter their status and also add tags.
Team
The My team section is where you add your team members and give them different permissions to access and manage the projects, courses, and students. You can select from as many as 6 additional permissions, which will definitely lessen your burden to a large extent.
How to add customers to your courses?
You can add customers to your courses by getting to the Product's fulfillment tab. Next, you will have to choose between your courses and bundles. After that, you need to apply them to customers based on the pricing options they choose, bump off, and other factors. You will find the upsell fulfillment in the funnel settings.
Check out more about ThriveCart Lifetime Deal in 2022 here.
How do students access the course content?
Students will have to go through the checkouts and funnels. Students will be presented with a link to access the course, and after they click on it, a registration form will appear wherein they will need to enter a password, name, and email address. After that, they will have to verify their email address and post that. They should be able to sign in to their account.
Another way to go about it is by sharing a direct link. You can either use the ThriveCart subdomain or set a custom domain as far as the URL goes.
ThriveCart LMS Learn+ FAQ
What is Learn?
Learn is the LMS platform that comes with ThriveCart, and users can use it for free. You can create modules and courses to sell them to customers using Learn.
What are the features of Learn?
Learn by ThriveCart comes with powerful features, and they are:
Create Projects
Create Courses
Instant Access and Drip Feed Access
Create Bundles
Manage Students
Manage Team and Permissions
Time to try out ThriveCart Free Trial 2022 now.